Sedation Dentistry
CAN YOU REALLY RELAX IN THE DENTIST'S CHAIR?
Sedation Dentistry Cheltenham
Have you ever experienced fear when sitting in the dentist's chair?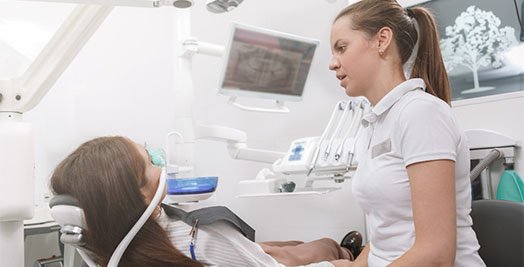 You might have had a bad experience at the dentist, causing you to avoid attending regular dental check-ups or dental procedures altogether.
If you avoid visiting your dentist due to fear and anxiety, Dentist On Warrigal Cheltenham can provide several types of sedation to achieve a comfortable and relaxed experience.
What is Sedation Dentistry?
Sedation dentistry allows a state of deep relaxation that helps relieve fear and anxiety.
You will be relaxed and comfortable through your dental treatment. You will wake up when the procedure is finished.
Sedatives may be added in increments to keep the level of sedation safe and effective.
The levels of sedation include: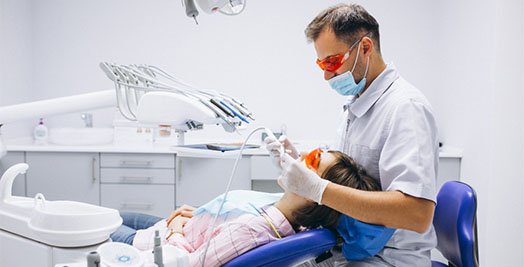 Minimal sedation
This type of sedative can be administered orally or inhaled.
The most common form of mild sedation is nitrous oxide, which is also known as 'laughing gas.'
Mild sedatives like nitrous oxide keep patients conscious during the procedure.
Patients can breathe on their own and feel completely relaxed while the dentist performs their services.
Moderate Sedation
Moderate sedation (formerly called "conscious sedation") — Oral medication and Intravenous Sedation (IV sedation) can help patients who experience moderate forms of anxiety.
Your dentist may administer oral medicine to take before arriving at your appointment.
In the office, your dentist may also inject sedatives directly into the bloodstream through a vein to ease anxiety faster.
Like mild sedatives, IV sedation keeps you completely awake and allows your dentist to control the level and length of sedation.
Although you will still be awake after moderate sedation, it is highly recommended you have a responsible company to drive you home after the procedure.
Deep sedation
One of the most common forms of deep sedation is general anaesthesia.
General anaesthesia can be given to patients who receive invasive or complex dental procedures like root canal treatments or dental implants.
Throughout the procedure, patients are unconscious and require breathing assistance.
Like moderate sedation, we recommend having someone accompany you to your dental appointment to make sure you will arrive home safely after your dental appointment.
Is Sedation Dentistry Right for Me?
Before starting any dental treatment, our Cheltenham dental team will review your medical history, and we monitor you very closely while you're under sedation.
Sedation Dentistry in Cheltenham
Please call our Cheltenham office so we can discuss your dental anxieties or needs and figure out the best sedation method for your dental treatment.
Request an appointment with your Cheltenham dentist today!
Contact us on (03) 9583 5506 or request your appointment online.
We are located at Suite C, 151 Centre Dandenong Road in Cheltenham.
Frequently Asked Questions
Is sedation dentistry safe?
There is always a risk of getting anaesthesia. It is usually safe, though, when given by experienced dentists.
How long does it take for the sedatives to wear off?
The effects of the sedative will gradually wear off during the day. Mostly, patients can return to their normal activities within 24 hours, depending on the nature of their work.
Am I a candidate for sedation dentistry?
Any sufferers who experience dental fear are good candidates for sedation dentistry.
If you have any fears or concerns, visit Dentist On Warrigal Cheltenham about sedation dentistry as an option for your dental therapy:
Extreme dental fear of visiting the dentist
Fear of needles
Traumatic experience with a dental procedure in the past
Can't handle the smells or noises at a dentist's office
Sensitive teeth, strong gag reflex, or problems getting numb
Require a more complex dental treatment
Feel conscious about your teeth
Wish to have a more comfortable dental treatment