Occlusal Splints
Protect Your Teeth During Sleep
Occlusal Splints Cheltenham
Occlusal splints are custom-fitted nightguards worn over your upper teeth.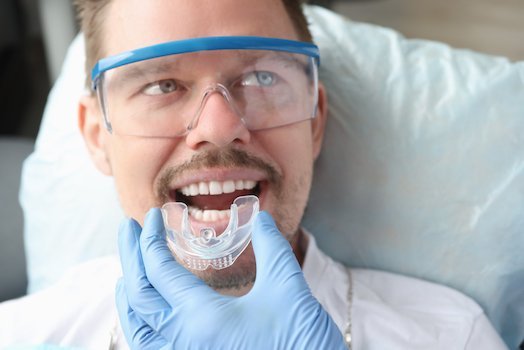 Benefits of Occlusal Splints
Protects your teeth from wear and protect against their chipping and cracking.
Opens your bite, removing some pressure from your jaw joints and muscles
Evens out your bite, removing the pressure off your teeth. This improves toothache or pain while chewing.
Encourages you to stop teeth grinding/clenching.
Signs You Might Need An Occlusal Splint
When you visit for a check-up, your dentist may notice wear on the biting surfaces of your teeth, crack/chips in your teeth, or marks or spaces in the cheeks and tongue. These changes in the mouth can often be a sign that you may clench or grind your teeth.
Sometimes, before seeing your dentist, you may start to experience symptoms that can indicate a need for a splint.
These symptoms may include the following:
Pain or discomfort in the jaw, muscles or teeth
Difficulty in chewing food
Limited or difficulty in opening your mouth
Tension headaches
Increased teeth sensitivity
Making Your Occlusal Splint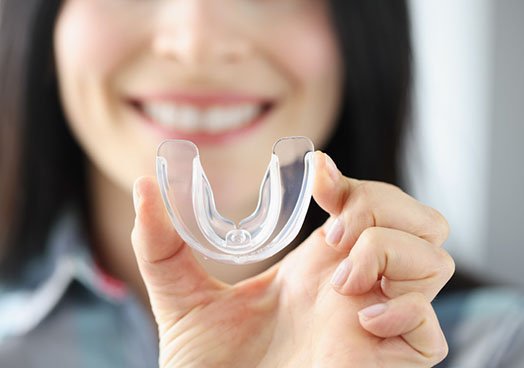 Occlusal splints are typically made of hard acrylic resin and moulded from an impression of your teeth.
After the splint is made, your Cheltenham dentist will fit and adjust it.
You are expected to wear them at the advised times, to come back for follow-up appointments to check on how your symptoms improve and to have the splint readjusted whenever necessary.
Your Cheltenham dentist will advise you about how to best care for the splint.
Occlusal Splints in Cheltenham
If you suffer or believe you are suffering from any TMJ disorder or bruxism, occlusal splints may be the right treatment for you.
Visit your Cheltenham dentist today!
Call us on (03) 9583 5506 or request your appointment online.
We are located at Suite C, 151 Centre Dandenong Road in Cheltenham.
Frequently Asked Questions
What are occlusal splints made from?
Most occlusal splints are made of acrylic material. Most splints are clear, helping to make them look less obvious.
When are occlusal splints worn?
Most occlusal splints are worn when sleeping. As when you are sleeping, you can involuntary brux.
You can also wear your splint while working or studying.
How do I care for my occlusal splint?
Taking care of your occlusal splint is important to get the most out of it and ensuring it lasts for long!
Always clean your occlusal splint with cold water
Clean it before and after wearing
Store it in a clean container when not in use
Your Cheltenham dentist will give you more instructions on how to care for your splint when they give it to you.