Invisalign SmileView Cheltenham – Try on a new smile.
Snap a smiling selfie, and we'll show what Invisalign® treatment can do for you.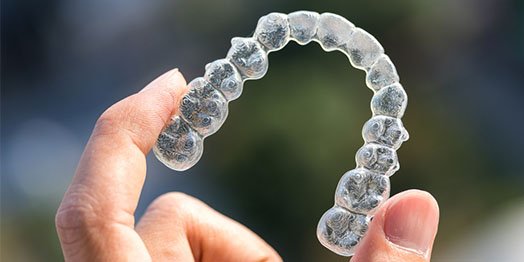 Seeing is believing.
Take a photo and see what you could look like with straighter teeth in less than 1 minute.
What is Invisalign®?
Invisalign® is a series of clear plastic removable orthodontic aligners to gently move your teeth.
It lets you eat your favourite foods, smile confidently, and stay active, all while straightening your smile!
Invisalign® SmileView™ Simulator
If your teeth have alignment issues and you are considering orthodontic treatment, then you may have heard of Invisalign®.
SmileView™ is an online simulation of how our patient's smile may look after orthodontic treatment.
Within 60 seconds of taking a smiling selfie using the SmileView™, patients can see what their new smile and straighter teeth may look like with their facial features.
Simulate Your New Smile with Our Invisalign® SmileView™ Simulator
SmileView™ is simple to use and offers a first look at what you can expect from Invisalign®.
While the image you see is an indicator of the possible results, it is only a part of the procedure and not a total replacement for a dental consultation with your Cheltenham dentist.
Let's Get Started with your New Smile
Dentist On Warrigal Cheltenham is the place for you!
We recognise that every smile is unique, and that is why we create individualised treatment plans for each patient.
Traditional metal braces are no longer the only orthodontic treatment option available.
You will find Dentist On Warrigal Cheltenham offers leading-edge treatment options such as Invisalign®.
Our smile services are custom-made to help you get the beautiful smile you dream about!
If you have tried the Invisalign® SmileView tool, and you like what you see, here's how to get started:
Fill out the Complimentary Consultation form, and we will contact you to schedule a consultation
You can call our Cheltenham office to schedule a consultation at (03) 9583 5506
We look forward to meeting you, creating the best orthodontic treatment option for you and helping you achieve your dream smile!
See Straighter Teeth at Dentist On Warrigal Cheltenham
Invisalign SmileView Cheltenham is a great tool in our extensive kit of dental treatments give you plenty of reasons to smile about.
Request an appointment with your Cheltenham dentist today!
Claim your FREE Invisalign Consultation on (03) 9583 5506 or book your appointment online.
We are located at Suite C, 151 Centre Dandenong Road in Cheltenham.