Dentures
DURABLE DENTURES FOR MISSING SMILES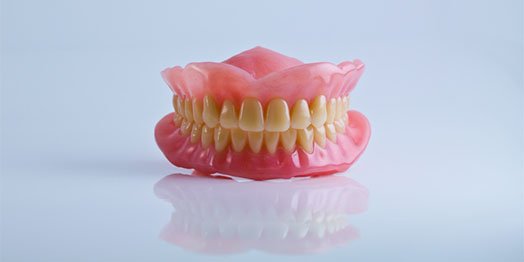 Dentures Cheltenham
If you have missing teeth, wearing dentures will benefit your appearance and health since they make it more convenient to eat and speak better than you could with missing teeth.
When you lose all your teeth, your facial muscles can sag, making you look older.
Dentures can help enhance your facial appearance.
Types of Dentures
Conventional dentures, also called complete dentures, are placed after the remaining teeth are extracted, and tissues have healed, which may take many months.
Immediate dentures, also called temporary dentures, are worn immediately after the remaining teeth are extracted.
You can eat without putting too much pressure on your natural teeth while waiting for your new permanent dentures to be made.
Partial dentures are made to fill the gap left by lost teeth. They can be removed when needed, helping you feel more confident if you're missing a small number of teeth.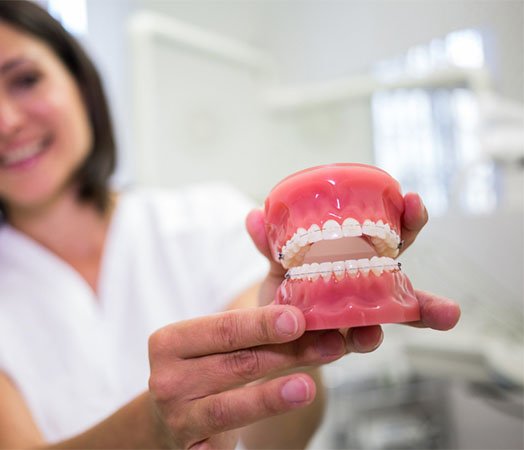 Denture-Making Procedure
The denture-making procedure takes a few weeks and several appointments.
Once your Cheltenham dentist determines what type of denture is best for you, here are the general steps:
Make moulds and impressions and get measurements of your jaw.
Make models, wax forms, and/or plastic patterns in the exact shape and position of the denture. You will "try-in" this model, and the denture will be assessed for colour, shape, and fit before the final denture is cast.
Cast a final denture.
Adjustments will be made as necessary.
Denture Care in Cheltenham
Don't let dentures dry out! Soak them in a denture cleaner or plain water when you're not wearing them. DO NOT use hot water; this causes your dentures to deform.
Brush your dentures. Brushing your dentures every day will remove food and plaque and help prevent stains.
Take care of your mouth. Brushing your gums, tongue and palate every morning using a soft-bristled toothbrush before wearing dentures stimulates blood circulation in your tissues and helps remove plaque.
Consult your dentist. See your Cheltenham dentist in case of denture damage. Do not try to fix them yourself, as this can damage them beyond repair.
Dentures in Cheltenham
To know more about dentures, or if they stop fitting well or become damaged, contact your Cheltenham dentist.
Be sure to schedule regular dental check-ups. Your Cheltenham dentist will examine your mouth to see if your dentures continue to fit properly.
Contact us on (03) 9583 5506 or request your appointment online.
We are located at Suite C, 151 Centre Dandenong Road in Cheltenham.
Frequently Asked Questions
Is wearing dentures painful?
Minor irritation and discomfort is normal and should be gone as your mouth gets used to wearing dentures.
Can I wear dentures while sleeping?
Remove your dentures when you are about to sleep. Doing so will give your gums and bone time to rest from the bite force during the day.
Can I normally eat while wearing dentures?
It takes a short time to be accustomed to your new dentures. After some time, you should be able to eat normally.
Are dentures long-lasting?
Dentures usually last from 5 to 7 years with proper care. Just like natural teeth, dentures wear down and stain as they age.