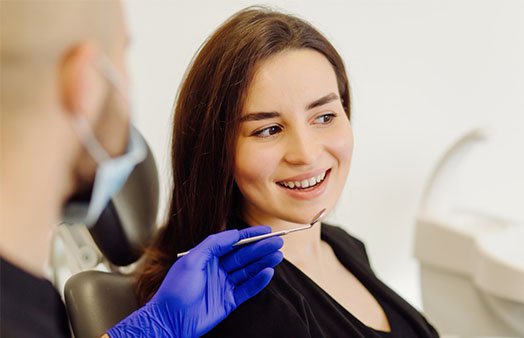 Dentist On Warrigal is a dental practice located in Cheltenham also serving patients in Mentone and the surrounding areas.
Dentist On Warrigal Cheltenham is a state-of-the-art dental clinic helping residents in Mentone and accessible for patients in the surrounding areas and providing "thorough and personalised care" every time.
We are a team of devoted and family-friendly dentists and staff, meeting the highest standards of dental excellence.
Our dental team is dedicated to helping the Mentone community and its surrounding suburbs maintain and enhance their residents' oral health.
Delivering Oral Health to the Mentone Community
Toothache Treatment
If you experience recurring dental pain, visit your dentist immediately.
While it's not usually considered an emergency, teeth that are causing you pain should book be examined by your Cheltenham dentist to rule out some of the more severe cases.
Learn more about toothache treatment
Bleeding Gums Treatment
Bleeding gums can be very alarming for some. One notices even when while brushing teeth lightly.
Book an appointment with your Cheltenham dentist to determine whether dental health is the underlying issue that causes your bleeding gums.
Learn more about bleeding gums treatment
Broken Tooth Management
A chipped or broken tooth is an aesthetic issue. Often, they become sensitive to temperature changes.
If your tooth was knocked out, see a dentist within 30 minutes. You should also see your Cheltenham dentist as soon as possible if you have excessive pain or bleeding.
Learn more about broken tooth management
Discoloured Teeth Treatment
Discoloured tooth or stained tooth is not a great sight while smiling. Discolouration can occur due to many reasons.
If you notice a change in the colour of your teeth and it doesn't get better with a whitening product, it's a good idea to follow up with your Cheltenham dentist.
Learn more about discoloured teeth treatment
Sensitive Teeth Treatment
Can't enjoy ice cream on a hot day? You may have sensitive teeth.
If your sensitivity is making it difficult to eat, talk to your dentist about finding a solution.
Book an appointment with your Cheltenham dentist if you experience symptoms of tooth decay or root damage so you can receive treatment right away and prevent further complications.
Learn more about sensitive teeth treatment
Teeth Grinding Treatment
Waking up tired, with a sore jaw, or notice your teeth is wearing out faster than you thought.
Treating teeth grinding early is important to prevent significant dental complications.
If you are or believe that you are grinding your teeth, visit your Cheltenham dentist for a consultation and treatment for bruxism.
Learn more about teeth grinding treatment
Bad Breath Treatment
A persistent bad breath is usually caused by bacteria build-up in the mouth, gingivitis, and indigestion. Snoring, breathing through the mouth etc., adds to bad breath.
To prevent/ treat bad breath, practice good dental hygiene and be sure to visit your Cheltenham dentist for regular dental check-ups.
Learn more about bad breath treatment
Missing Tooth Treatment
Have you lost all or some of your natural teeth?
Whether you have a missing tooth because of tooth decay, gum disease, or an injury, talk to your Cheltenham dentist about options for replacing a missing tooth.
Learn more about missing tooth treatment
Crooked Tooth Treatment
Most often, people with crooked teeth worry about the appearance of their teeth while smiling.
They don't require treatment unless they're causing health problems or self-esteem issues. Consult with your dentist today!
Learn more about crooked tooth treatment
TMD Treatment
Finding it difficult to open and close your mouth? Feeling pain around the jaw? Headaches and stiff neck, swelling and clicking or popping sound while opening and closing the mouth?
The chances are that you are suffering from a temporomandibular disorder.
TMJ disorders affect the jaw joint and muscles that control the jaw. They can be hard to diagnose and treat because of how complex this joint is.
Learn more about TMD treatment
Snoring and Sleep Apnoea
Snoring has become so common. Kids to adults snore. Because snoring generally happens in private settings, people are not necessarily compelled to address it.
Snoring is an unhealthy condition and leads to severe health issues if left untreated.
If snoring is a problem, don't hesitate to bring it up with your dentist Mentone, who can develop an individualised treatment plan.
Learn more about snoring and sleep apnoea
Wisdom Tooth Treatment
Impacted wisdom teeth are removed as they cause more issues than being helpful. In the teenage years of an individual, it is recommended that wisdom tooth position is checked.
Talk to your dentist Mentone about treatment options if your wisdom tooth is impacted.
Learn more about wisdom tooth treatment
Optimum Dental Care for Patients in Mentone
We aim to promote optimum oral health to patients from Mentone and the surrounding areas.
Visit your dentist Mentone to learn more about your oral health condition and what we can do to improve it.
For dental concerns and enquiries in Mentone, contact us on (03) 9583 5506 or request your appointment online.
We are located at Suite C, 151 Centre Dandenong Road in Cheltenham.