Scale and Clean
PROFESSIONAL TEETH CLEANING
Scale and Clean Cheltenham
Brushing and flossing daily is not enough to remove plaque and tartar build-up.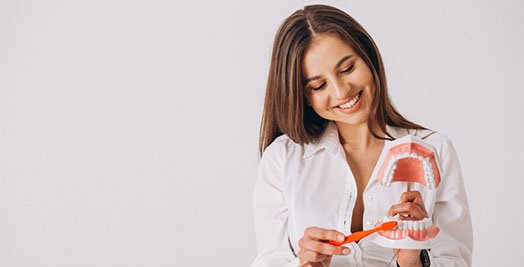 Only a scale and clean at your Cheltenham dentist's office can do that.
A professional dental clean remove soft and hard plaque and stains that cannot be removed with regular toothbrushing at home.
Scaling and cleaning help prevent the development of tooth decay and gum disease and is recommended each six months.
The Benefits of Professional Scale and Clean
The procedure has a lot of benefits; here are some of them:
Prevent Tooth Decay and Cavities
Avoid Gum Disease
Remove Stains
Prevent Bad Breath
Improve Your Overall Health
Save Money on Restorative Dentistry
You might need a scale and clean if you…
have plaque build-up or calculus on your teeth
want to take preventive treatments
have stained teeth because of smoking and using tobacco products
have stained teeth from drinking coffee, tea or red wine
have TMJ disorders and other jaw joint problems
Scale and Clean Procedure
At Dentist On Warrigal Cheltenham, you will get custom teeth cleaning and scaling that is usually completed in an hour.
The procedure includes the following steps:
Before starting the scale and clean, your Cheltenham dentist will perform a check-up to make sure that you don't have any serious dental problems.
After your check-up, we will use ultrasonic cleaning equipment to get through the pockets and areas below the gum line to remove plaque.
Your Cheltenham dentist will scale and clean the top jaw both front and back, then move to the bottom jaw to complete the process. This ensures that no areas are left without scaling and cleaning.
You will also receive fluoride treatment, gum inspection, along with scaling and cleaning.
You can also choose root planing along with scaling so your gums can be reattached to your teeth.
During the root planing treatment, your tooth surfaces will be smoothened by your Cheltenham dentist, which allows the gum tissues to heal and reattach to your teeth.
Your Cheltenham dentist may advise you to undergo a special dental routine to promote fast recovery.
Scale and Clean in Cheltenham
Keep your teeth clean and healthy, with a professional scale and clean. Make an appointment today!
Request an appointment with your Cheltenham dentist today!
Contact us on (03) 9583 5506 or request your appointment online.
We are located at Suite C, 151 Centre Dandenong Road in Cheltenham.
Frequently Asked Questions
How often should I come for a professional scale and clean?
A professional scale and clean at least twice a year will help in the prevention of gum disease, which initially starts as gingivitis.
How are dental cleanings performed?
Your Cheltenham dentist uses special tools to gently remove plaque/tartar without harming the teeth.
Is it going to be painful?
Most people find scale and clean procedures painless and find the sensations not causing discomfort.